For my third and final multimedia reflection, I have chosen to create a Powerpoint slideshow with narration and some neat transitions.  I decided to use this platform to do my reflection, because although I've known how to make Powerpoints, I have never narrated one of mine, nor rehearsed the timings so that it plays itself from start to finish.  I thought that this was a good platform to try and to learn how to use the more advanced functions, specifically the narrations, the animations and sounds applied to the images of the different modules, and then exporting the file to Youtube.  
Now that I have worked with and acquired these skills, I am confident that as a teacher, I could create recorded lessons for my students, perhaps if someone missed a class, wanted to review a specific concept, or even if I decided to try out a Flipped Classroom model.  This is a common way that teachers would record and upload a recorded lesson. I will say that this process took much, much longer than expected, because it obviously took time to reflect and synthesize my ideas about the Technologist module, then I had to put these ideas onto my slides in a visually pleasing way, by adding pictures, and some animations, and then after I had to go through and write a script for what I was going to narrate.  My script ended up being over 5 pages, and quite honestly, I wasn't sure how long the presentation was going to be, but was relieved that it only was 10 minutes (although I do apologize for making it that long; I had put so much effort into writing the slides and the script that I had no clue how I was going to cut it). Anyways, I would highly recommend anybody wanting to record a lecture to do it with Powerpoint! I was impressed by how easy it was to record my voice, and if I messed up, I was able to clear the narrations for that slide, without having to start the whole process over (thank goodness!).  I did have to look up how I could narrate the slides, because I wasn't able to quite figure it out on my own, so I found this Office Support website https://support.office.com/en-gb/article/record-a-slide-show-with-narration-and-slide-timings-0b9502c6-5f6c-40ae-b1e7-e47d8741161c which showed me that it's just a simple button and it sets you up in a different window to begin recording and working through the slideshow.  It was very easy once I pressed the button, I just had to read and click on the screen.
One major challenge I would like to discuss is that after creating the presentation, and after saving it and trying to insert it directly into this post, I discovered that my file was wayyyyy too big to be linked here- the maximum is 10 MB, and mine is 36 MB.  So, I was actually horrified when I read that, because I have never come across this before, and I realized I would have to use the online repository for the first time!  I was patiently waiting for it to finish uploading, but uView said it may take awhile! And I really had no clue how long that might be. So after 18 hours and still a loading icon and the videos saying that they are initializing, I had to post my video on youtube! This also was quite difficult and I had to finally use Quicktime Player's screen recording feature to get the audio onto the a video file (all of the other means of downloading the powerpoint to .mov and .mp4 wouldn't capture my narrations).  So after I finally was able to screen record, the audio became a little fuzzy, so I hope you all don't mind, and still are able to hear what I'm trying to get across.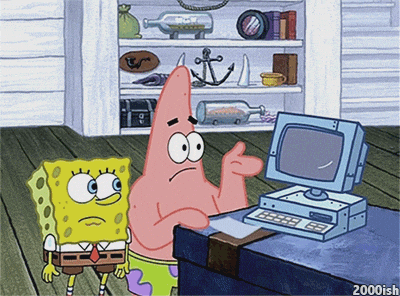 -some of my frustrations are captured in this GIF of Patrick lol
I will not comment on the module here, because this is all contained in my slideshow and in my narrations!
So without further ado, here is my Powerpoint on Youtube!

And here is a link to the Ontario Extend Technologist Module https://extend.ecampusontario.ca/modules/ of which was the content of my slideshow.
Kaleigh Martin
#UWinDig #alwaysgiveyourselfplentyoftimeforuwindsorsrepository